Our mission was to find and support under-the-radar
talented

artists from all backgrounds and walks-of-life to partner with.
We do this in order show off good art and to be more then just personalising a t-shirt.
Besides showing the art in conjunction with the manual screenprinting, it was going back to basic and doing as much as we could by hand, which we love.
CHECK OUT OUR COLLABS SO FAR:
T-shirts and custum-made jewelry packaging was created for the launch of their GP necklaces at summer festivals in Europe this summer.
Fueled by the Spanish sun and the Catalonian punky attitude, this Belgian duo based in Barcelona has decided one year ago to upcycle wearables and tune them to their needs. From Jackets and other clothing to high energetically and well-resourced crystal jewelry.
They would customize anything you put in their hands, obviously only if it fits their Pirate/Nomadic style.
BART CLAES (Antwerp, BE)

publisher of Xeroxzine - Tears all over town.
Let me tell you more 'bout Bart...
.... studies to be a movie-maker at RITCS, Brussels,
Bart returned to Antwerp and focused more on photography and illustrations.... at that time Senor Cortez was born.
This signature graphic inspired us for the design of the merch, together with 'Jack, the cat'.
In 2013 he worked together with Studio Helder (Shop and Platform for contemporary design) to bring out his book : A Xerox-collection of his work in the last 3 years. The grafic aspect plays a big part in his Xerox-art.
With heroes like Wolfgang Tillmans en Nan Goldin he got possessed by photography and shoots his photo series 'Way In Way Out' that shows European subway stations.
Earlier exhibitions:
Co-fouder of 'Fst Forward', an exposition space for new mixed media artists (Ernest Van Dijckkaai, Antwerp).

Part of No7em, Artist -collectiv-exhibition named

'the worst expo' in MAF gallery (schipperskwartier, Antwerp).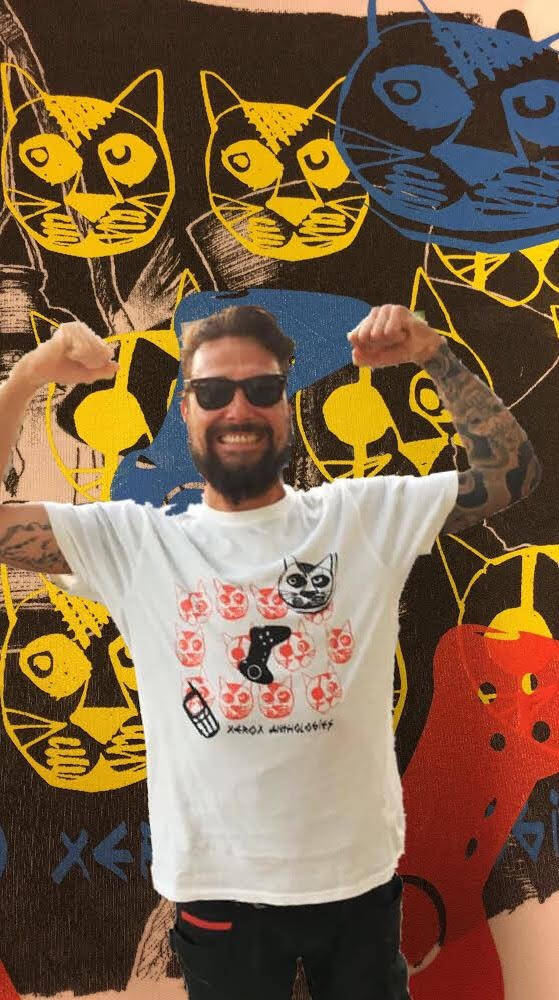 October 2018
Prime time, we're partnering with the talented, local artist Ilja van Reede for a limited edition t-shirts in customized packaging.
"When folding the first finish box and putting in the printed shirt, the smiles came on our faces.
The result was even better than expected...!!"
a.k.a
Ilja van Reede
(Hengelo, NL)
Ilja van Reede - Born in Appeldoorn (NL), raised in Ireland and return at age 7 to Hengelo (NL) where he still lives with his 3 daughters.
Influenced by his father from a young age, Ilja took an other path in life and only started drawing with his markers at age 28.
He's a self-taught artist with his own dark and specific style.
Participating twice at the Art Brut Biennale in Hengelo (NL), one of europe's biggest Art Bruts exhibitions.
Currently he's working on on an art-project for a dutch music band, where his art will be presented in a book next to well-known artists.
HAVE A LOOK BEHIND THE SCENES...